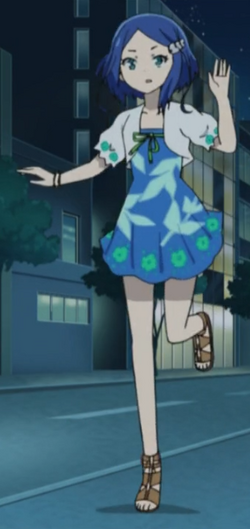 About Samack
Edit
Hello! I'm Samack, but please call me Sam! I do stuff on this wiki such as adding pictures, categorizing pages, and improving articles. Although I'm relatively new to the wiki, I'll do my best to make it really Happy-Naru!
My Favorites
Edit
Favorite Prism Jumps
Edit
Favorite Songs
Edit
1. nth color is a moving song of love and delicate strength sung with an majestic, otherworldly element. Her performance in Episode 32 brought everyone to tears because of its beauty, though Rinne's were for a different reason . . .
2. Sevendays Love, Sevendays Friend is the extraordinary juxtaposition of Rinne's cool, clear voice and June's warm, alluring voice. This symphonic masterpiece features sensational combinations of sounds, such as electric guitars and pipe organs, and the angelic vocals and dances truly prove this Prism Show dominant over the others in Episode 43.
3. gift is a clear, beautiful song perfectly balanced between gentle and fierce. Rinne's performances on liquid water and on a rooftop were both perfect and wonderful.
4. BT37.5 is a fierce, passionate yet cool song. It's both hot and cold at the same time, kind of like Ito herself.
Favorite Scenes
Edit
1. June's soliloquy during her Prism Show at the Over the Rainbow Session in Episode 49
2. Otoha's super-Meruhen outburst before her Prism Show in Episode 46
3. Wakana's mother becomes a badass in Episode 36
4. Ito's and Kouji's families finally reconcile after about 40 episodes of angst (and several years being stuck in the past) in Episode 47
5. Rinne and June's dialogue during their duo show in Episode 43
Favorite Prism Lives
Edit
1. Otoha's saxophone live is jazzy and exciting, like a Mardi Gras celebration
2. June's orchestra live is phenomenal, with a wide variety of harmonious sounds and tones
3. Wakana's xylophone live reminds me of a tropical coastline and sipping sweet, nonalcoholic drinks
4. Ann and Wakana's duo live is mystical and otherworldly, with the xylophone's chime perfectly in sync with the beat of the drum
5. Ito and Otoha's duo live is heartful, passionate, and romantic, truly a remarkable harmony
Community content is available under
CC-BY-SA
unless otherwise noted.